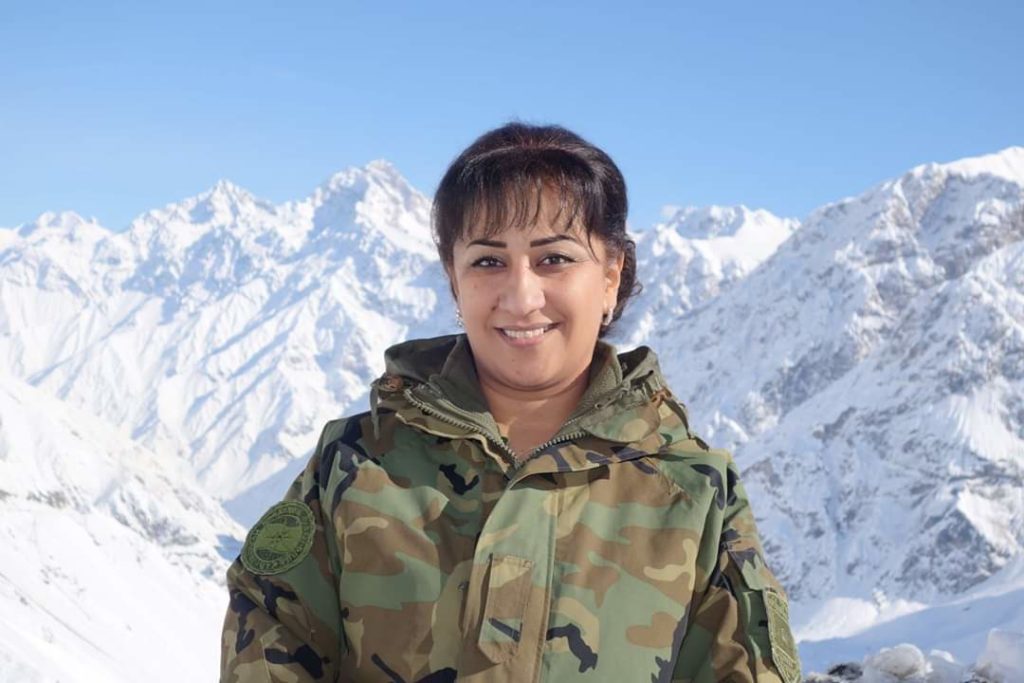 Umeda Yusufi, Head of the Press Center of the Committee for Emergency Situations and Civil Defense under the Government of the Republic of Tajikistan (CoES), loves her job. Over the years Umeda has established a successful career in a field, where female tasks are still very limited when it comes to addressing emergency situations and natural disasters. However, public relations is not the only subject that she is passionate about to learn and progress. One year ago, Umeda was selected among many candidates to participate in the Leadership Program of the Deutsche Gesellschaft für Internationale Zusammenarbeit (GIZ) GmbH (German Enterprise for International Cooperation). The Leadership Program is targeted at key decision-makers and future leaders in Central Asia. Umeda was eager to join the program as she is an open-minded and a proactive representative of the Tajik Government.
As a long-term staff of CoES, the interlinkages of environmental risks and climate change are not a novum for her, but part of her everyday work. She was very interested in making use of this opportunity not only to master leadership skills, but also to learn more about environmental topics and climate change. The Program was further an excellent platform for meeting and exchanging with people of various backgrounds from other Central Asian countries and beyond.
The key goal of the GIZ Leadership Programme is to coach future leaders on leadership and management skills as well as to enhance the participants' technical knowledge concerning environmental degradation, land-use, as well as climate change adaptation and mitigation. The participants are selected based on a competitive procedure and represent governmental and non-governmental sectors in Kazakhstan, Kyrgyzstan, Tajikistan, Turkmenistan and Uzbekistan. The leadership and management sessions are all related to climate change and are expected to improve the participants capacities in participating, leading, as well as steering development processes at national and regional levels. The training is divided into three modules, conducted during the course of one year, every module took place in different countries. The First Module was organized in Kyrgyzstan, the Second Module took the participants to Georgia and the Final Module was completed in Germany.
The Programme provided Umeda Yusufi the opportunity to further strengthen her skills and enabled her to secure a high-level managerial position. Additionally, the Programme created the environment for learning international management approaches, which she is using in her daily work.
Ten months after the Leadership Programme, GIZ asked her the following questions on how the Programme has helped her in her current position and beyond:
What was your motivation to take part in the Leadership Program? 
The Program is unique! I became familiar with the Leadership Programme through a flyer which immediately caught my attention. My goal of participating in the Programme was to enhance my understanding of team leadership, strengthen my strategic thinking as well as to expand my knowledge on climate change and how to incorporate its risks into planning processes.
Are you applying some of the tools and methods introduced in the training in your career path and at your work?
Of course, I am applying many of the lessons learnt! Already after the first module, I have started to write more articles and press releases on climate change, environmental disasters and their connectedness as well as implications for Tajikistan. Thanks to these articles, the Committee's Press Center was announced 'Press Center' of the Year by the decision of Tajikistan's Union of Journalists. This success was recognized and CoEs was awarded with a Medal for Meritorious Service by the Founder of Peace and National Unity, Leader of the Nation, President of the Republic of Tajikistan Emomali Rahmon.
What goals did you set for your personal leadership at work?
My goal as the Head of Press Center and future leader is to transform the Unit of Public Affairs into the Department of Public Affairs. Firstly, this will widen the scope of our work and involve more staff. The Department will have more capacity to raise awareness of a wider public on climate change and environmental risks. Further, I aim at increasing the technical capacities of all staff members on the interlinkages of climate change and natural disasters, and understand the different tools and methods used for risk assessments.  Creating a sustainable knowledge management system for storing and sharing relevant information and data is another important task that needs to be addressed. This will enable CoEs to improve its services and support Tajikistan in achieving the Sustainable Development Goals as well as to tackle climate change risks and challenges.
Ms. Umeda Yusufi credits the Leadership Programme for building her leadership skills and enabling her to act currently as successful manager while always staying true to her vision and values. As an Alumna of the Leadership Program, she remains connected with the Alumni Network to continue sharing own experiences and learning from each other, as well as taking part in various initiatives and events.
GIZ on behalf of the German Federal Ministry for Economic Cooperation and Development (BMZ) and the Ministry for the Environment, Nature Conservation and Nuclear Safety (BMU), promotes the sustainable management of natural resources, adaptation to climate change and conservation of biodiversity in close cooperation with national and local partners in Tajikistan. Through several projects, the joint effort is put on protecting the unique and precious environment of Central Asia, improving the livelihoods of rural communities, and strengthening their social and physical resilience.